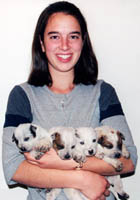 Queensland Heeler Puppy Photos
Click on a picture to view it as a larger image, and see info on the photo.
Queensland Heeler puppies are born all white, with only their dark patches to help identify what color they will be -- blue or red. At approximately 2 weeks of age, their color begins to appear and gradually darkens over a couple of months. We spend a great deal of time socializing and playing with our Queensland Heeler puppies to ensure they are friendly, happy and well-adjusted. A well-adjusted Queensland Heeler puppy should bring you many, many years of pleasure, protection and loyal friendship.