Click on an image below to view it as a larger image. The eleven images are progressive.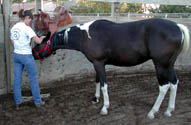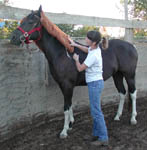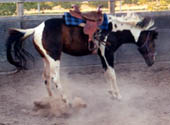 Last fall we began working with two 2 year old geldings: Decco Chocolate Chip and Decco Sandstone. Our training style is a modified version of the style used by my father when I was a child. It is based on developing familiarity and a trust between the trainer and the horse. Consistency, short training sessions (approx. 15 minutes of actual work time per session), daily workouts, and steady progression all contribute to building confidence in the young horse. Praise is their reward.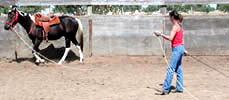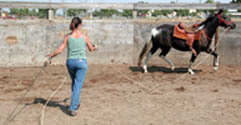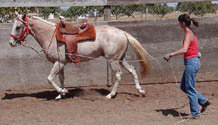 We do include one photo of Pearl's first saddling, purely for the entertainment value, just because our two subject boys were not as entertaining. Sometimes the first saddling is eventful, and sometimes it isn't. Either way, it tends to identify to us how that particular horse will react in an unfamiliar and stressful situation. The first ride is not overly stressful to the horse, and is almost always uneventful. The primary reason is that our training program tries to keep that first ride easy on the horse by making everything about it feel familiar and part of the natural progression. As you can see by the last photo, the first ride was once again uneventful.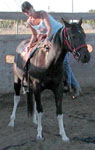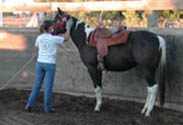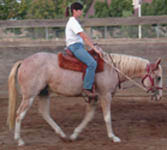 Click on an image to view it as a larger image. The eleven images are progressive.